Blockchain as Explained in 2022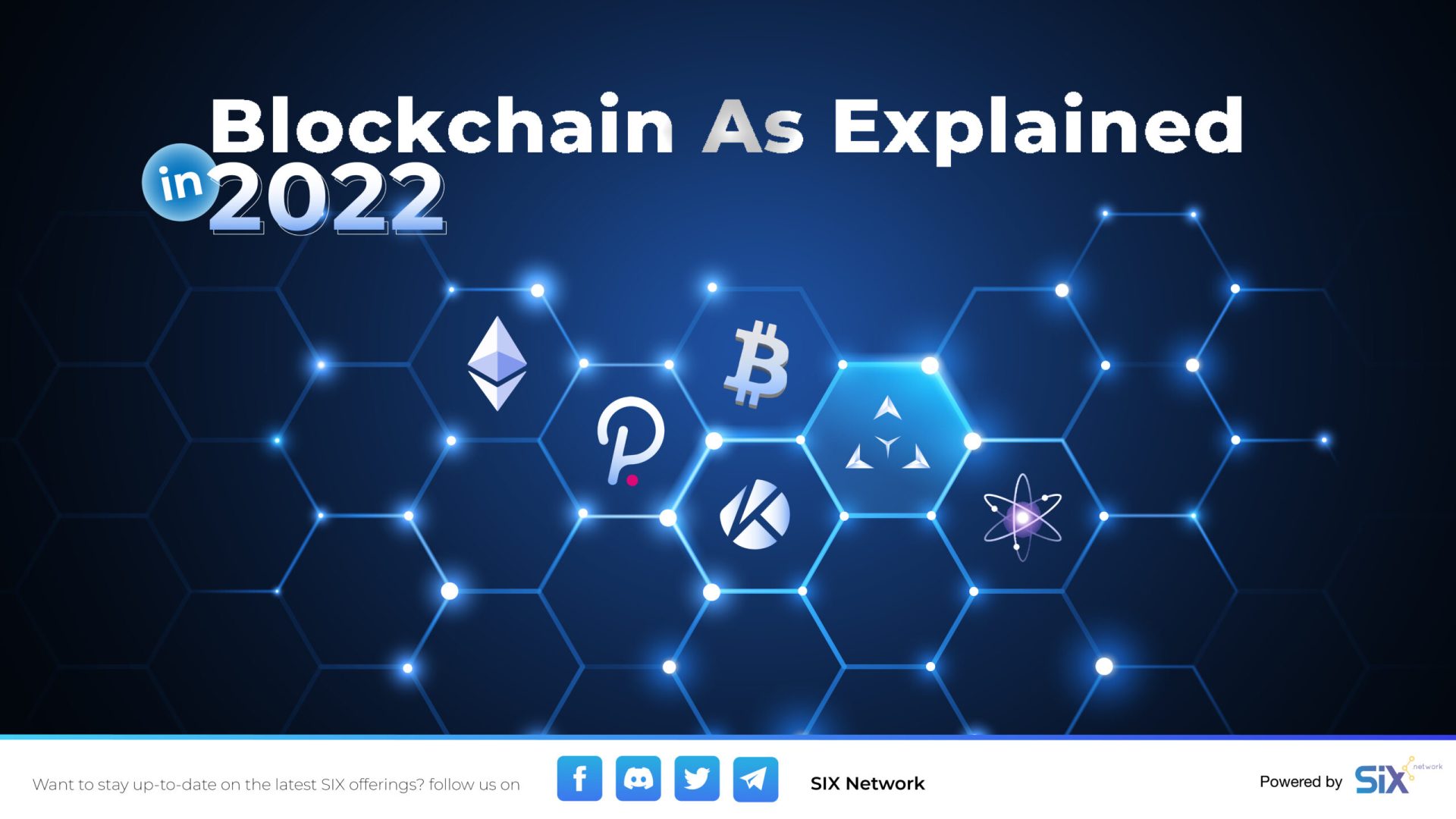 Hello there SIXers, I'm a writer at SIX Network and today I'd like to talk about the topic, in overview, of blockchain as explained in 2022. Three years ago blockchain was perceived differently from today's blockchain definition. It changes fast and revolves around the trend of DeFi, NFT, and Web 3.0 during the past years.
The core of blockchain can be explained under many circumstances such as perspective from end-users, corporate, and key product managers, just like SIX Protocol that was launched early in 2022.
Simple Blockchain Guide
Spending time reading this article will save you tremendous time questioning while diving deeper into the technology, whether you're interested in cryptocurrencies or how blockchain works.
A blockchain is basically a block tied up together into a long chain. Each block contains digital information and each block relies on the one before. The first working example of blockchain is Bitcoin. It was invented because of the inefficiencies of centralized banking institutions.
The specific characteristics of being decentralized make blockchain different and incredibly efficient to use. 
Who runs the blockchain?
Yes, blockchain is decentralized with no custodian, but with no miners there would be no computers running the network and no way to conduct transactions with it. Miners are essential to make the blockchain operational then they are distributed with reward for finding the next open-source block to continue blockchain. This type of algorithm is known as Proof-of-Work (PoW).
To this point, this is one example given to you to understand the function of it. And there are several algorithms blockchain uses for running the protocol like: Proof-of-Stake (PoS), Proof-of-Authority (PoA), and Proof-of-History (PoH) for instance.
Storing Blockchain
Continuing with PoW example, the storage conducted by nodes refers to computers storing a copy of the blockchain. It differs from miners where they validate transactions and send back and forth the information for other nodes and miners.
To build up the next block, miners are to confirm the block and then add it to the previous block in the blockchain. But how will the chain be created, you might wonder? The series of blocks must be validated. Now nodes will take charge of verifying all transactions, sending the new blocks to other nodes holder as a new copy.
Furthermore, I would like to introduce a protocol you might want to have a glance at powered by SIX Network. SIX Protocol chain will contribute to the community in many ways whether business or individual to have access to a friendly protocol.
SIX Protocol as The Chain of Choice 
SIX Protocol is a determinant extension that serves as a blockchain for individuals and the business sector. The protocol is designed to assist projects and businesses enabling the power of Web 3.0. 
There are many blockchains to choose from, why is the SIX Protocol beneficial for enterprises and individuals?
It is a notable point to start a mainnet that has the ability to connect with multiple blockchains. The infrastructure feasibility for projects and businesses to create new scalable decentralized apps.
Mentioning one of the SIX Protocol's Toolkits, Token Autonomy Management allows users to create and manage their digital assets whether it is a cryptocurrency or NFT so-called Initial Asset Offering (IAO) service.
Governance token on SIX Protocol is fueled by SIX tokens which is the cryptocurrency used for spending transaction fees, governing the system, and redeeming the services on SIX Protocol.
SIX Protocol's Validation System
Proof of Staked Authority or PoSA is backing up the security system throughout the SIX Protocol chain. It requires verification and approval by the majority of network nodes to validate a new block of transactions.
Validators are prone to keep transactions in the blockchain running, it is the most reliable and secure consensus algorithm. SIX Protocol's Node Validators are selected as trustworthy entities to secure nodes. 
NFT Gen 2 by SIX Network 
On top of that, SIX Protocol is eager to introduce the data layer made definitely for NFT. NFT Gen 2 is the on-chain solution of SIX Protocol to enhance the real utility of the NFT for business use.
The property for cross-chain functioning on SIX Protocol makes it easy for businesses to transfer NFT for any existing collection of the chain. One interesting feature is the ownership oracles that can screen for original content. Better suited for businesses and brands to be able to verify the ownership even though the NFT Gen 2's metadata on SIX Protocol can be modified will serve the needs of business campaigns and activities.
Learn more >> https://sixprotocol.com/
Summary:
SIX Protocol will become an alternative chain of choice for businesses needing to implement Web 3.0, bringing off-chain business to come to the blockchain side of the internet. Implementing SIX Protocol's toolkits will ease the process of tokens or NFT issuing with the property of cross-chain functions.
Therefore, blockchain technology is not something complicated if you understand the working system and the components of a blockchain. Though it evolves in many ways from layer 2 or side chain, all in all, blockchain technology mainly concerns peer-to-peer transactions cutting out intermediaries and inefficiencies.
– – – – – – – – – – – – – – – – – – – – – – – – – – – – – – – – – – – – – – – –
We are fascinated to hear from you about your on-chain project, email us if SIX Protocol is your blockchain of choice Email: business@six.network
Don't miss, out follow us at: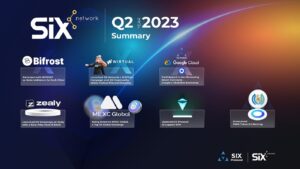 Table of Contents Introduction Welcome to the Q2 2023 recap of SIX Network. This quarter, SIX Network has made impressive progress
Read More