The Case Study of NFTs and Logical Endorsement of Real World Company
Short History of NFTs
Take a look back in 2012 when "NFT" was first introduced to the world, in the whitepaper written by Meni Rosenfield firstly called Colored Coin which identifies its property of it as a method in which real-world assets could be represented and accounted for in the digital world. The idea then was to create a token similar to Bitcoin but with a twist that each token would be unique and distinguishable, unlike other cryptocurrencies.
Long story short Bitcoin mind is not supported for NFT creation until 2015, which is the birth of Ethereum where development teams from Ethereum have some time to study the concept and came up with smart contracts to mint and distribute NFT with the first ever NFTs of the world known as CryptoPunks.
A Successful Story of NFT
Knowing the history of NFTs probably didn't convince everyone that NFTs are useful. Many projects try to replicate their success story, but only a few have even come close such as Bored Apes Yacht Club.
Honestly speaking NFTs are perceived as the art collection, but digital art is just one use case for NFTs and is mostly a familiar use case. Other several use cases such as proof of ownership of anything and one great example is real estate.
Case scenario:
If you based NFT on a deed for house selling, you could essentially create a record of the home's occupancy and ownership on the blockchain. And when you are ready to sell the house, you could make a summary of the entire history of the house from the day it was built. Moreover, smart contracts can eliminate much of the paperwork too.
Propy is a real estate company implementing NFT for property selling.
https://propy.com/browse/propy-nft/
This same principle applies to anything with substantial value along with car purchases, stock investments, and so on. The legitimate use cases merging between NFT and real-world uses are still a debate to date.
NFT Integrated Company Example 
Let's take a look at giant companies that have already implemented NFTs for their product in proving the legitimacy of ownership.
✓ Nike's CryptoKicks: In this project, they involved the patented shoes as NFTs to mitigate counterfeit shoes and when a customer buys a genuine pair of shoes it is accompanied by a cryptographic ownership detail.
✓  Gucci Vault: Take a whole new route with Vault – an online store that launched several sets of Gucci's NFT collections.
Long-term Viability of NFT
Another aspect of NFT use case has been adapted from the forefront concept of blockchain decentralization. Keeping track of the supply chain does not necessarily mean you know the ownership of the milk in your fridge. However, if the milk came with an NFT, people could track down what farm it came from or the date of pasteurizing. Well, this is a cool idea but people will get over it within a week. 
Where this concept really makes sense is in companies that need multiple better solutions of visibility over goods from their starting to endpoints. One well-known luxury brands such as LVMH and Prada are leading the way in this area.
Consumers who buy high-end products, handbags, jewelry, or other items can prove their origin through NFT which displays the product's history from manufacturer to store as well as proving counterfeit products.
How Does Creating NFT on SIX Protocol Beneficial?
Answer: We won't boast that SIX Protocol chain is anything in between, but we are offering a worthy space to run a buzzling project. Skilled developers, outstanding oracle system from our partner Chainlink, and expert consultant in blockchain technology will facilitate you to achieve. 
Trusted names that have collaborated with us in NFT projects are T-ARA, Sunmiya, and Buakaw.
The primary purpose of NFTs is not to buy overpriced jpegs which you can already screenshot off Google. Rather, NFTs have legitimate use cases from real-life case studies.
Summary
There are more sides to NFT that will be useful. New identity experiences, marketing tools, access control, and more to mention. It's likely that many of the companies looking forward to the opportunity to flourish over the long run will integrate both digital and physical aspects into the product they're holding.
Don't miss out follow us at: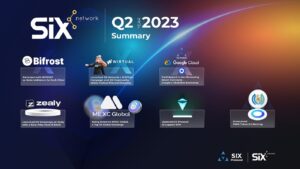 Table of Contents Introduction Welcome to the Q2 2023 recap of SIX Network. This quarter, SIX Network has made impressive progress
Read More