Q4 SIX Protocol by SIX Network Summary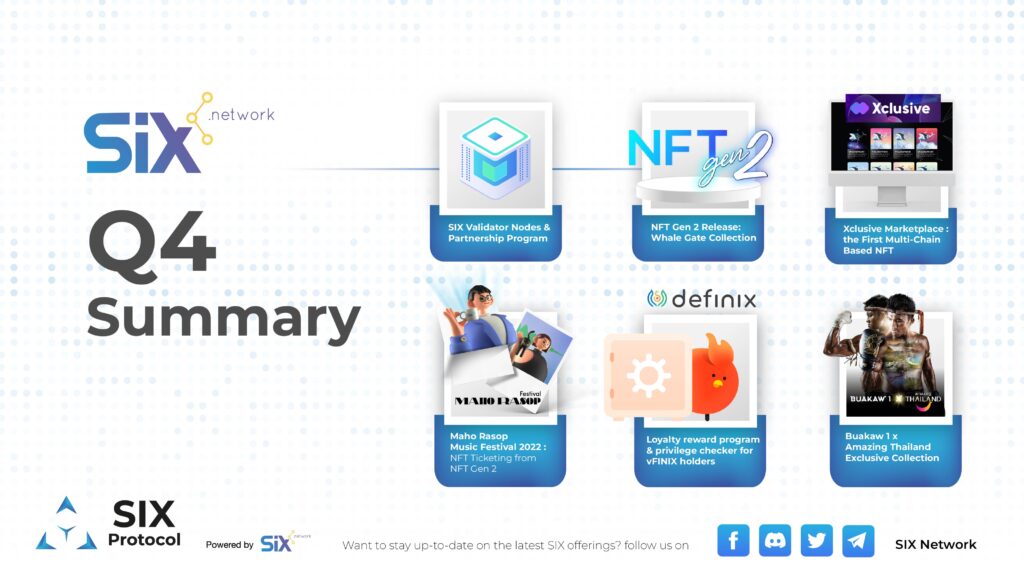 Another year ending in 2022, SIX Network is determined to follow its own path, no matter what is happening in the cryptocurrency and blockchain world. This led to the development of the SIX Protocol chain, a blockchain specifically designed to allow businesses to implement blockchain technology.
In this Q4 summary report, we'll have a look at the last quarter of the year including:
1. SIX Validator Nodes & Partnership Program
2. NFT Gen 2 Release: Whale Gate Collection
3. Xclusive Marketplace : the First Multi-Chain Based NFT
4. Maho Rasop Music Festival 2022 : NFT Ticketing from NFT Gen 2
5. Loyalty reward program & privilege checker for vFINIX holders
6. Buakaw 1 Exclusive Collection x Amazing Thailand Exclusive Collection
SIX Validator Nodes & Partnership Program
Six Network's Node Validator is a key component of SIX Protocol's strength. Currently, we have revealed 15 Node Validators which is a significant number and some of them are in the planning process for implementing our SIX product.
Moreover, We have acquired more business partners, and We will be revealing more Node Validator partnerships in the future. This is a great accomplishment and we are excited to continue working with these partners to provide the best possible outcome.
https://six.network/six-protocol-individual-node-validator-the-big-opportunity-for-small-group/
NFT Gen 2 Release: Whale Gate Collection
SIX Network participated in the Thailand Crypto Expo at the Queen Sirikit National Convention Centre for the second time from October 6-9, 2022. This event allowed us to share our work and connect with the community by presenting an overview of the SIX Network, including the SIX Token, SIX Protocol, Xclusive Marketplace, past NFT projects, and the latest "NFT Gen 2".
SIX Network Showcasing the world's first NFT Gen 2 at the booth was the main highlight. And giving away the NFT Gen 2 of "Whale Gate Collection," in the form of paper wallets to let visitors share the experience of in-real-life use of NFT Gen 2, and they have to complete in-booth missions to earn points embedded in each NFT. These points can be redeemed for premium gifts right away.
NFT Gen 2 is the on-chain solution on SIX Protocol, developed by SIX Network. The purpose of creating NFT Gen 2 is to enhance the real utility of the NFT and make businesses able to implement NFT for real-world business activities.
The NFT given involve the new technology building on a layer called Dynamic Data Layer which can technically be embedded with the information needed to complete any kind of use. If you want to learn more, please visit our website at sixprotocol.com.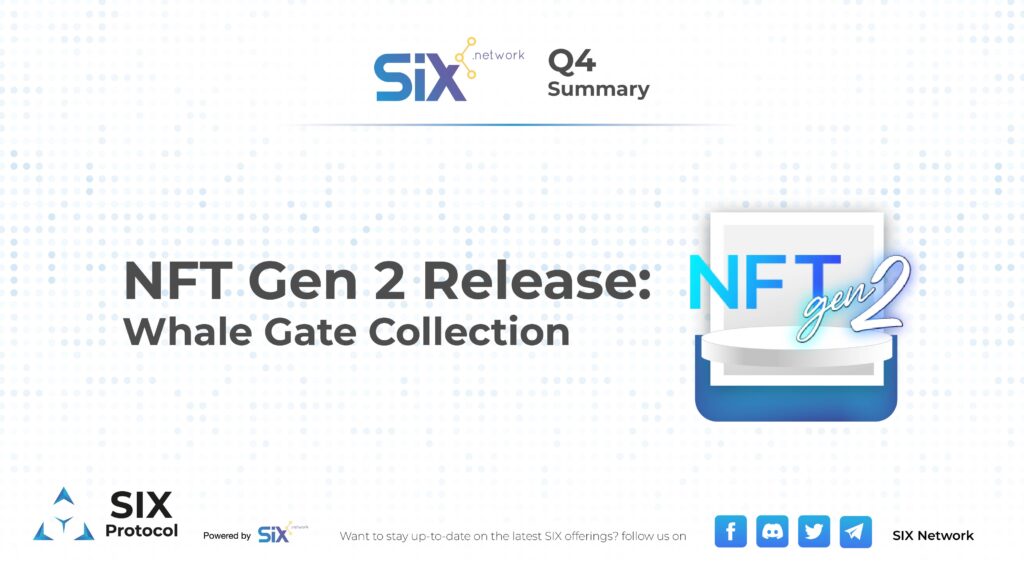 Xclusive Marketplace : the First Multi-Chain Based NFT
At the Thailand Crypto Expo 2022 in October, there were several notable events, including the launch of Xclusive, a multi-chain NFT marketplace led by Finger Labs, Xeno, and SIX Network introduced for the first time in Thailand.
Xclusive was launched on August 31, 2022, due to the hot trend of the NFT market in South Korea. As an official partner of Klaytn, SIX Network saw this as an opportunity to expand its business activity, given the significant growth in trading volume on Klaytn at the time.
Xclusive is a multi-chain NFT marketplace that supports Klaytn and Ethereum networks and allows NFT trading with various tokens/coins such as SIX, FAVOR, KLAY, ETH, and more.
Moreover, Klaytn-based projects accept SIX as a form of payment on Xclusive, making the launch of this NFT marketing an important milestone for SIX Network to expand the use of SIX Token.
https://sixnetwork.medium.com/xclusive-launch-sixnetwork-fingerlabs-5ee3032e0889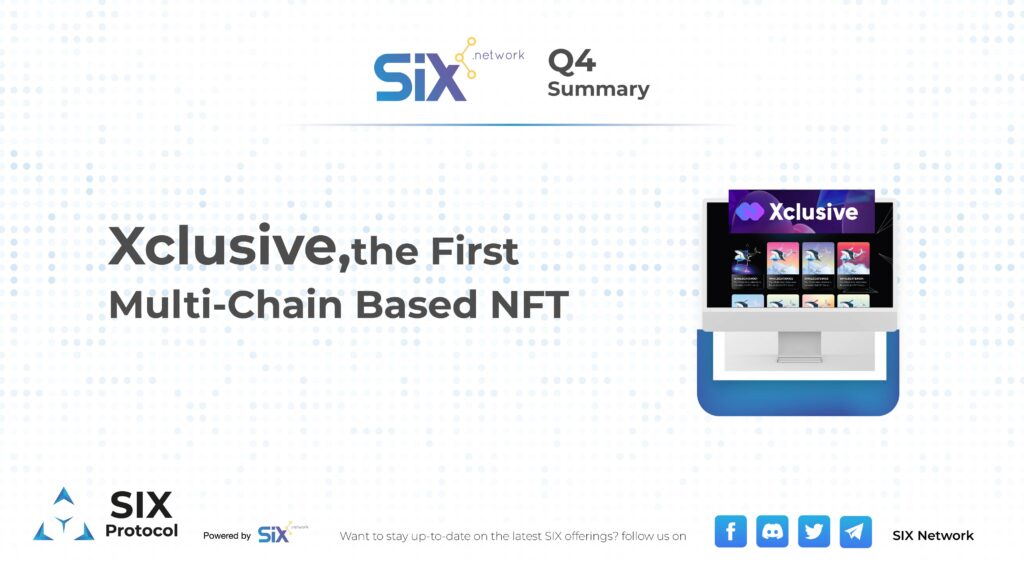 Maho Rasop Music Festival :  NFT Ticketing from NFT Gen 2
Bringing NFT to real life is always a goal for SIX Network, and they are working towards implementing NFT Gen 2 at the Maho Rasop Music Festival. TeamMHRS is the first collection of NFT Gen 2 used in ticketing pass for an event in which this time represents an international independent music festival hosted in Thailand during 19-20 November 2022 at ESC Park, Rangsit.
The NFT is embedded with information about the ticket pass, privileges for the owners such as VIP Lane, ownership identification, exclusive discounts, etc.
Using NFT Gen 2 for ticketing can also help prevent duplicate use, making it suitable for large and small businesses and improving customer relationship experience as well.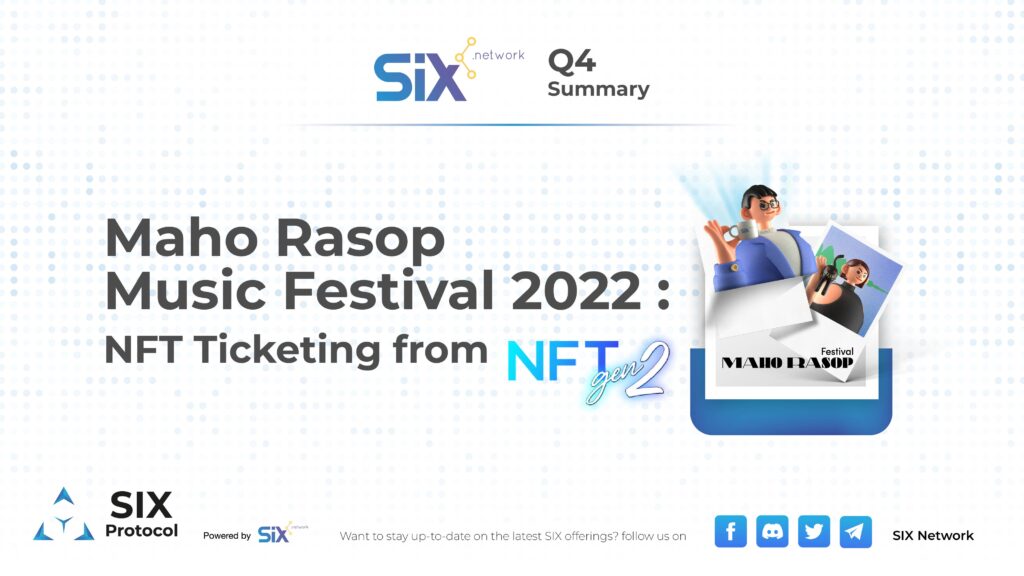 Loyalty Reward Program & Privilege Checker for vFINIX Holders
According to a recent announcement, vFINIX holders can claim rewards on loyalty reward program on the second round from 14th December 2022 onward and the next round on January 11, 2023, and February 15, 2023.
In the future, holders will receive more privileges such as airdrops and whitelists, as well as other rewards which is a significant milestone for our team to utilize vFINIX to create more use cases and reward those who support the operation of Definix.
And the major part of shaping the vFINIX utility and user experience will come from this Privilege checker page that we will introduce shortly after this announcement has been made.
This privilege checker page will manage all types of privileges for vFINIX holders with just a few clicks. To learn more about this check out:
https://sixnetwork.medium.com/announcement-new-loyalty-reward-program-privilege-checker-for-vfinix-holders-24356de36f76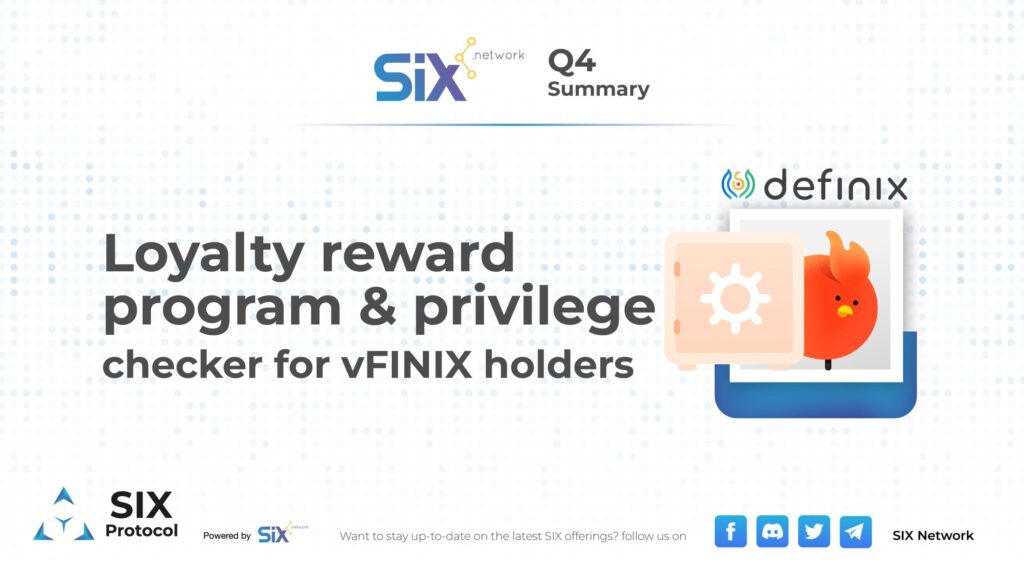 Buakaw 1 Exclusive Collection x Amazing Thailand Exclusive Collection
From Thailand to the world, the extension phenomenon of "Muay Thai" and "Technology" encourage tourism in Thailand. A newly released NFT collection by the living legend, Mr.Buakaw Bunchamek collaborated with the Tourism Authority of Thailand to create "Buakaw 1 Exclusive Collection x Amazing Thailand".
This exclusive collection will bring NFT holders to travel around Thailand using the "Mirror Potion" (Travel Potion) changing the background of the NFT to places in Thailand from 10 unique attractions. 
Moreover, the holder of the collection can have a chance to win a privileges package from the hotel in Thailand and can be used for the year 2023 such as discounting of a hotel room or benefits while staying from 60 leading hotels such as:
•  Rati Lanna Riverside Spa Resort, Chiang Mai
•  Siripanna Villa Resort & Spa, Chiang Mai
•  Centara Villa Samui Hotel, Samui
•  Grand Mercure Phuket Patong Resort & Villas, Phuket
The privileges are packed full for the year 2023 to encourage tourism in Thailand just like another campaign that will be onboard during the first month of 2023 which is "Friends Get Friends" to win a travel package and more activities to come later.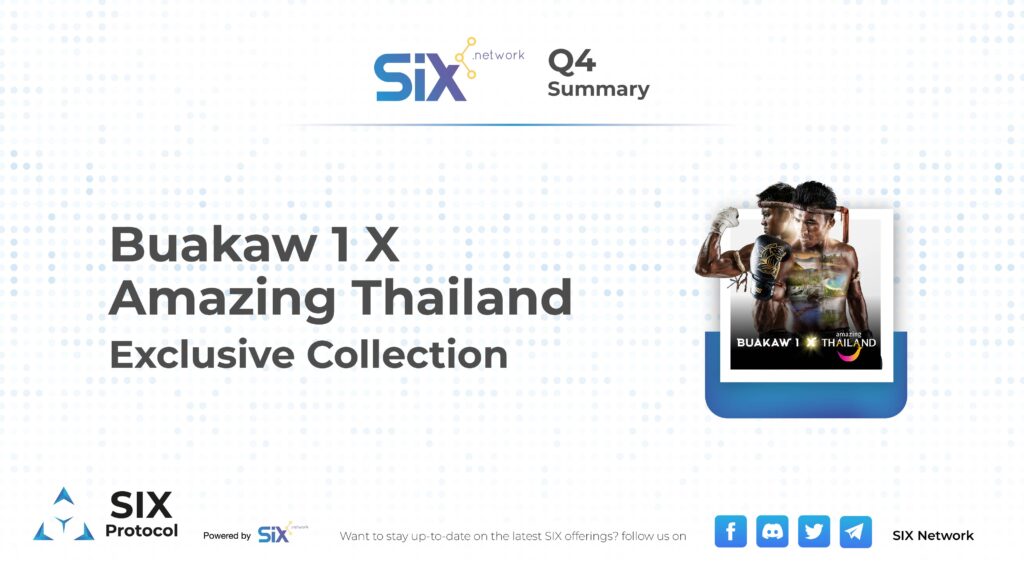 Summary
At the end of Q4, we are thrilled to announce a key highlight "NFT Gen 2" which is the new innovative solution. With a wide range of potential use cases, We believe that NFT Gen 2 will be a game-changer and will have a significant impact on businesses.
At Six Network, our goal is to focus the implementing the use cases of SIX Protocol. In the coming year, we will continue to build upon our product and acquire new partnerships to drive the development of the SIX Protocol even further.
——————————————–
Please don't forget to follow us for more news and updates https://linktr.ee/Sixnetwork
Don't miss out follow us at: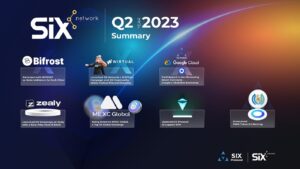 Table of Contents Introduction Welcome to the Q2 2023 recap of SIX Network. This quarter, SIX Network has made impressive progress
Read More